Who is Cusi Coyllur?
Below is a timeline of the music and creative work I've done leading up to being Cusi Coyllur and as Cusi Coyllur. Plus some tidbits about my life and heatlh.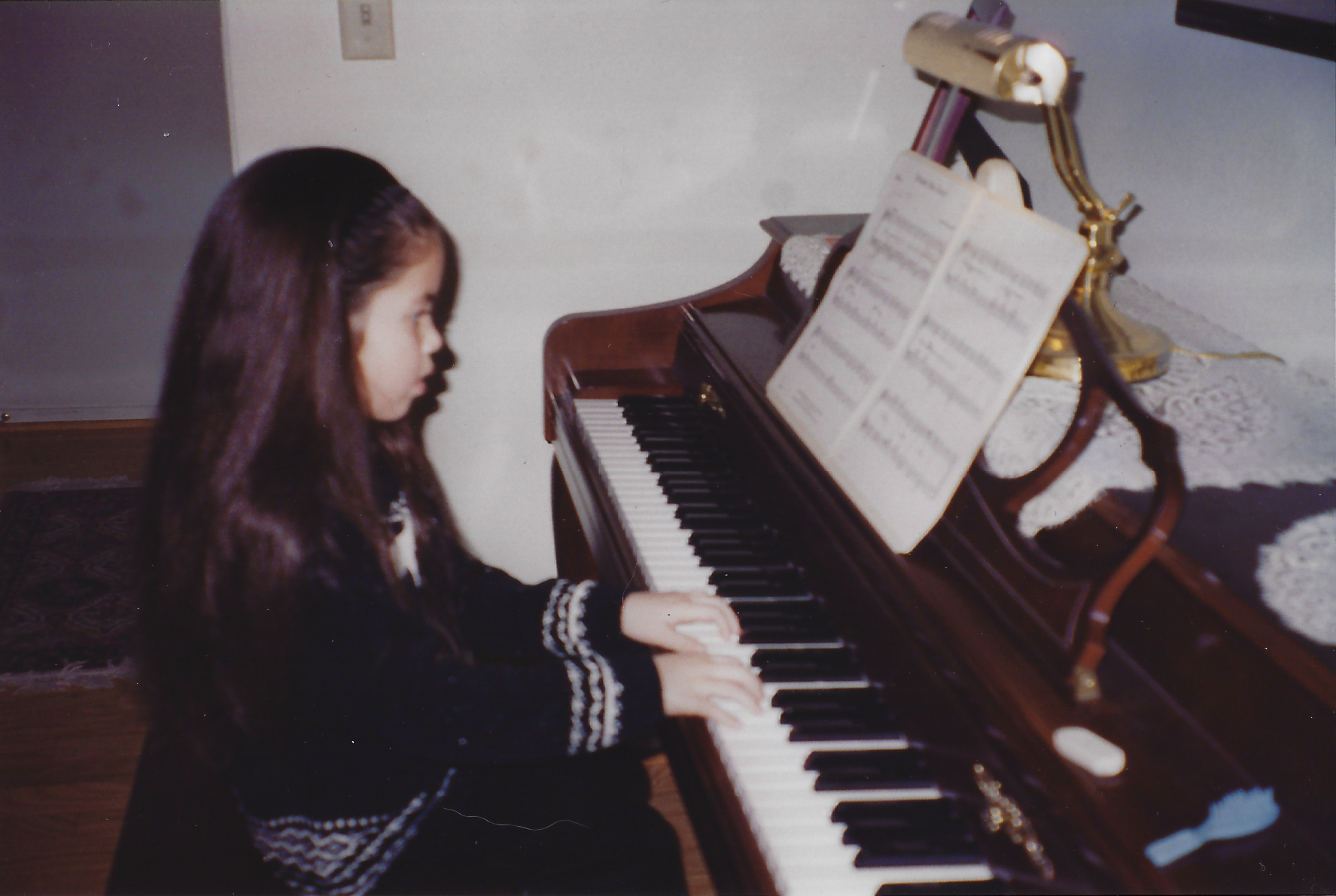 I started out learning vocals and classical piano at 5 years old. Played in a Fab-4-type cover band – consisting of my cousins and my brother – at talent shows, tons of family parties, and random SCV events til I was 8. Recorded kids songs with a children's choir til I was 9 and later used the money to buy my Nord keyboard. And then I started writing my own songs.
My first artist name was actually just my name – Shannen Roberts. I played a few shows at Kulak's Woodshed, at a local record shop, coffee shops, but mainly by myself in the practice rooms at my school until a high school classmate heard me and made me play in front of people. And from there, word got around that there's some girl named Shannen who plays piano, sings, and writes her own songs.
HEALTH: This was about a year after I was diagnosed with IBS, irritable bowel syndrome, and had symptoms of anxiety and depression.
Apparently YouTubers were searching for the Goosebumps theme song but instead came across my original song "Goosebumps" that I played at piano recital. So…it has 11k views hahaha. I later played this same song at a pageant competition that I had to do or else I would have been expelled from my high school (maybe I'll tell you that story another time lol).
"Chaos" was a song I wrote with one of my friends about another friend pulling the fire alarm during a choir concert. The video is silly but became popular at our high school.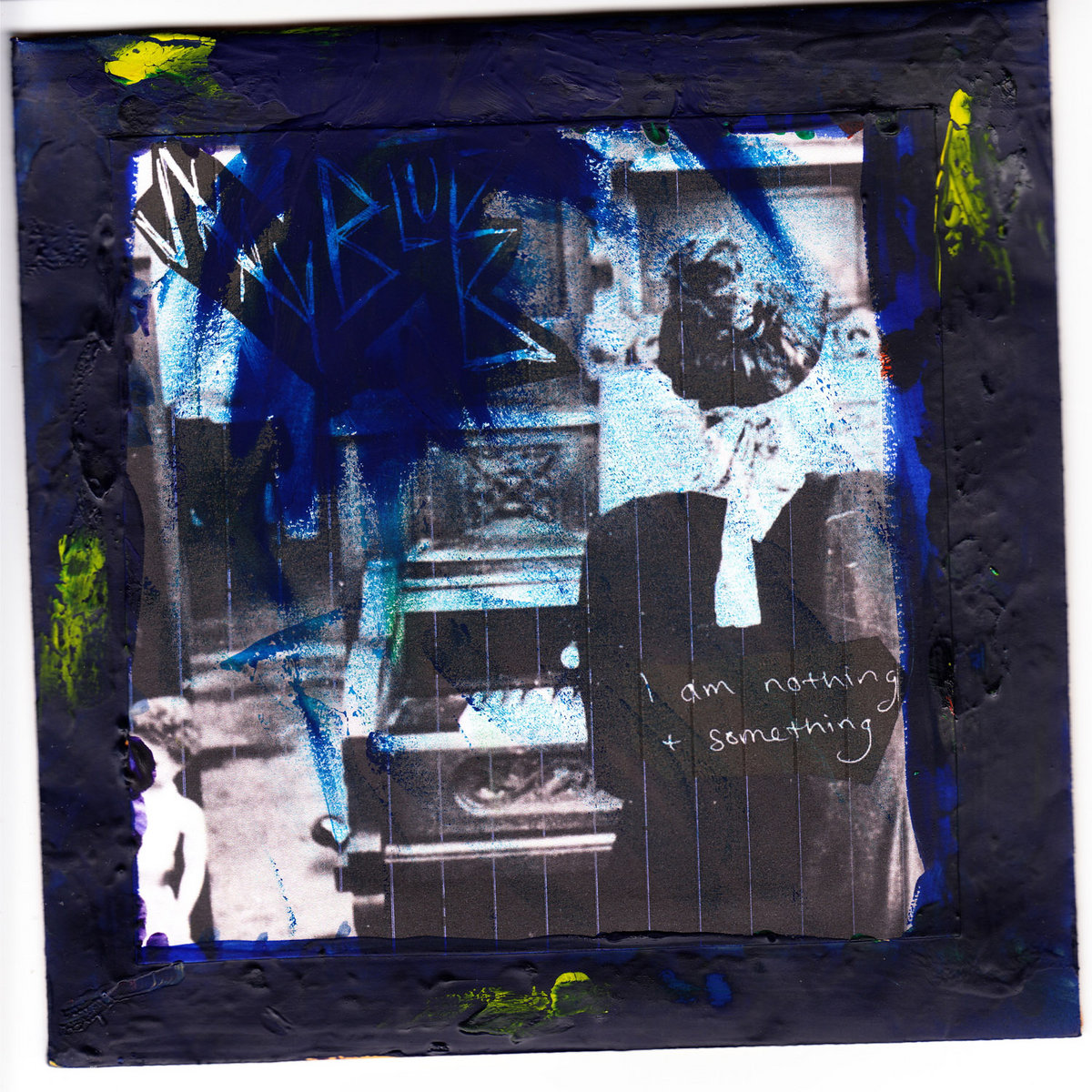 This was my first ever artist name that wasn't my actual name. I won a competition at CSUN under this name for singing a song called "Prana" that I never recorded. Back when CD's were a thing, I sold this album with a mini lyric zine at L.A. Zine Fest.
I started a club with my friend Sarah Hong in high school called Music & Songwriting Club. It took A LOT to convince our high school that music shows won't cause students to fight and riot. The opposite happened – it brought together our school and the whole district, and gave SCV kids a place to hangout and express themselves. We ended up organizing regular lunch shows and festivals with not just district musicians, but with college and other local bands too.
HEALTH: This is when my panic attacks started and my depression hit hard.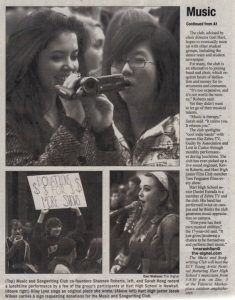 This was my first "real" band. While it was good, we played a lot of shows and I performed a song I wrote with a children's choir, made up partly with my piano students at the time. I'd been teaching piano since I was 14-years-old and put on recitals for them and everything. Unfortunately, it ended very badly because of one bandmate…my brother. To be blunt, he was verbally abusive to me and he became controlling toward the whole band. So naturally, it crumbled.
HEALTH: On top of panic attacks, anxiety and depression, I got whiplash twice this year.
Yoga bolsters and chairs as seats, candles lit around performers, and tea for afterward, I organized acoustic shows for valley artists at the yoga studio I was working at and studying to be a yoga teacher. Ironically, I was fired for having a panic attack lol.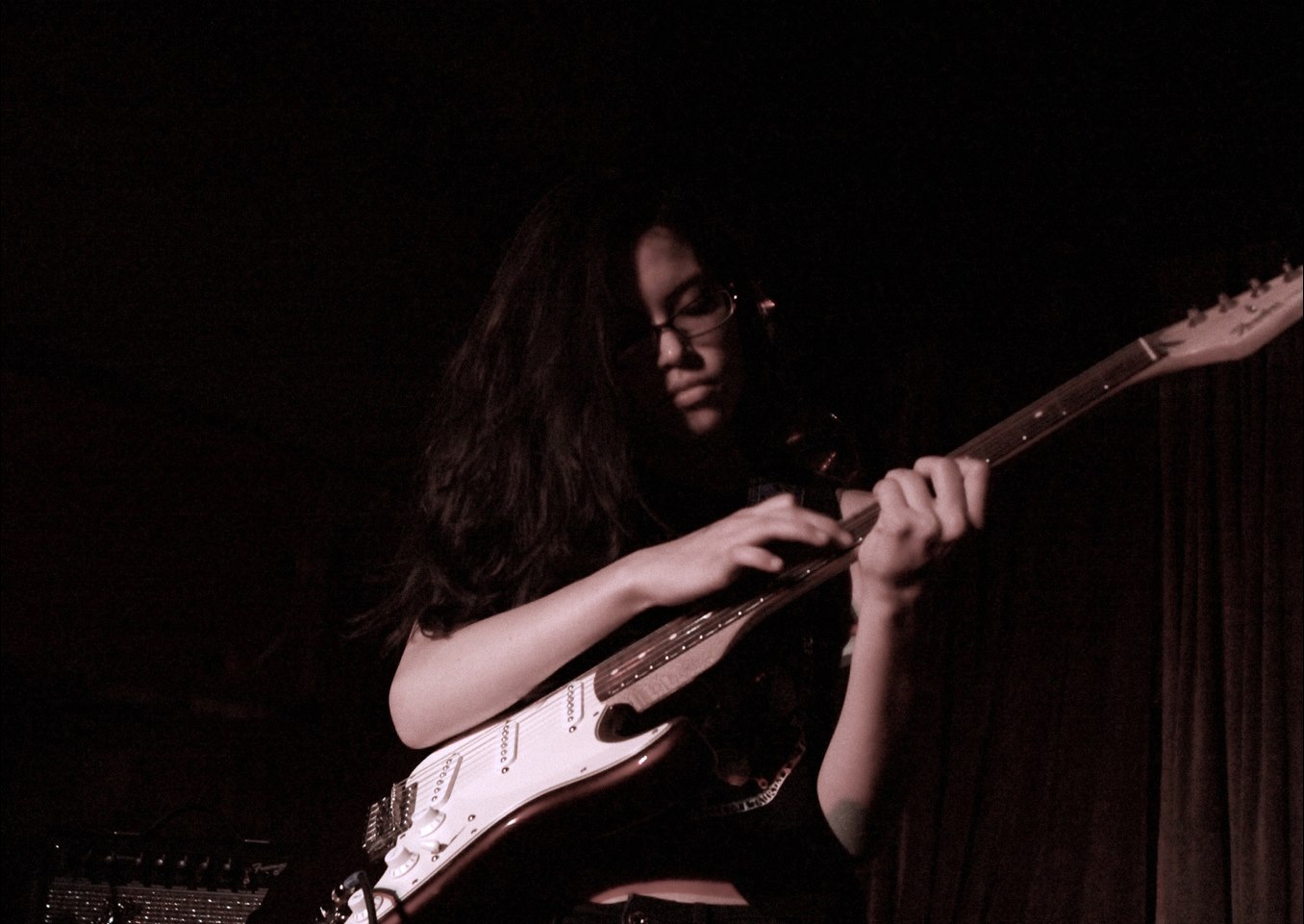 For me, this was a fun and no-pressure band. I NEEDED that after my traumatic experiences in GrowYoung. Besides playing keys and singing, I was taught to tap on electric guitar for shows and do things I had never done like jump off on amp haha. I organized the fundraiser for our first tour and left the band afterward to explore my solo music.
2 Grunge 2 Care Poem Zine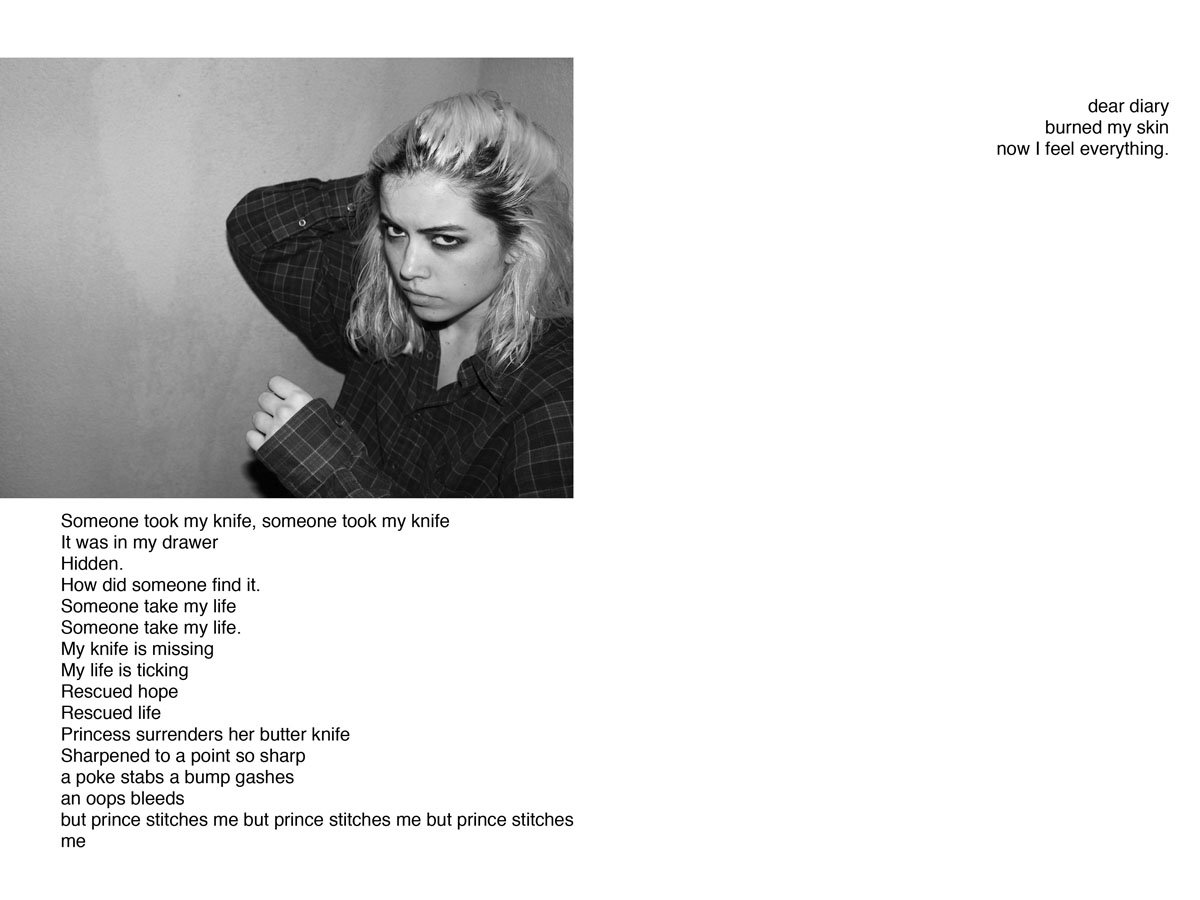 I actually released A LOT of zines since I think 2015 that I sold at LA and SF zine festivals or just gave away/traded. This zine in particular was tied into my music, so some of these poems later became songs. "2 Grunge 2 Care" is about caring way too much while living the epitome of a grunge lifestyle. Intoxicated, depressed, and way too many panic attacks while in denial of long-distance love, this girl just wants to numb out to forget.
HEALTH: I was diagnosed with arthritis in 2014.
This punk band was short-lived but I wanted to remember it because in the beginning, it was fun to scream and yell at shows and make fun songs with friends. No recordings were made to my knowledge. I later made a music video with Nico of one of my songs called "be patient with your plants."
This isn't a music-related project, but it was a big part of me that I tied into my music projects later.
I started this project because my whole life I've grown up with kids who have ADHD, schizophrenia, panic disorder, anxiety, PTSD, depression….including my own set of obstacles. And I felt like no one cared about what we were going through, no one wanted to listen to us, and no one wanted to have anything to do with us period…and none of us knew how to get better.
I founded this to offer alternative self-care for mind obstacles – that's what I call mental illnesses – for free/cheap. My sole goal was to make it accessible to others. I and my staff wrote hundreds of blog posts, I created zines sold at L.A. and SF zine festivals, taught workshops, and created/organized online and in-person events. The most popular were the online Self-Care Gift Exchange for Anxiety & Depression that drew 158 people across the U.S. and in Canada, and the "You Can Be Broke and Self-Care" exhibit in Chinatown. The exhibit included a field trip visit from a nearby highschool. Since 202, it's been on hiatus. I'm not sure if or when I'll go back to it, but I am proud of all I accomplished during those years.
Woke Up From a Lazy Dream
This was the first dance music video I created as Cusi Coyllur about my panic attacks and high school substance abuse issues I had. My favorite part was creating the red, cellophane dress with the bottlecaps.
HEALTH: Domestic abuse from my brother was at it's worst.
"amivulnerable?" music video
Featured on HuffPost, Ms. Magazine's blog, and Madame Gandhi's "The Future is Female" Spotify playlist, this dance music video showed different types of domestic abuse. Choreographed by Alex Floyd, creator of OdDancity.
HEALTH: Was in the ER because of acid in my lungs, was diagnosed with acid reflux. Moved out to an apartment and my panic attacks disappeared the day I moved out.
"It's not as simple as just leaving" zine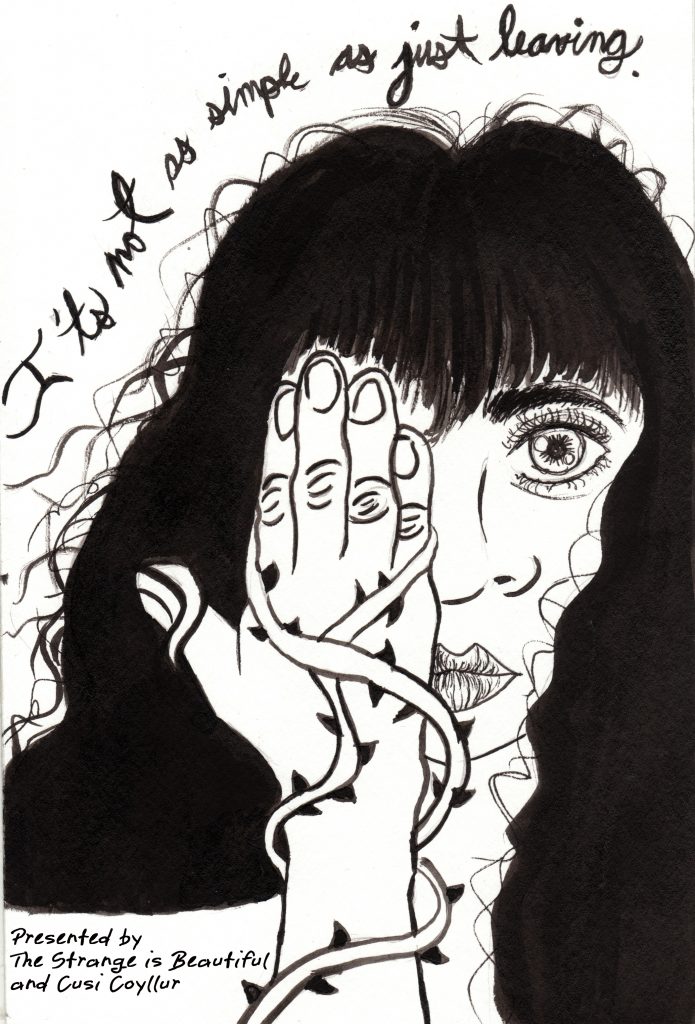 As a free download, this domestic abuse awareness zine was released alongside my "amivulnerable" music video and was a collaboration with my blog The Strange is Beautiful. It has interviews and self-care tips from survivors.
"Bipolar Lovers in Love" EP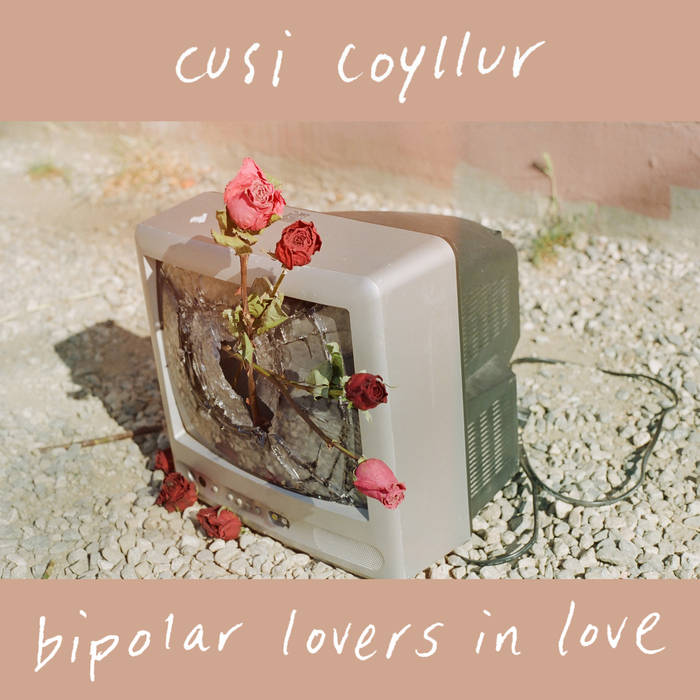 Written over a course of 10 years and recorded over 4 years, my debut EP was very painful to create. I faced verbal abuse and threats from my brother through those 4 years – he recorded and mixed it – and had to legally fight him for the rights to my songs while dealing with panic disorder and finals in my last semester of college. The songs are about my mind obstacles at the time – depression, panic attacks – and the destructive relationships I dealt with.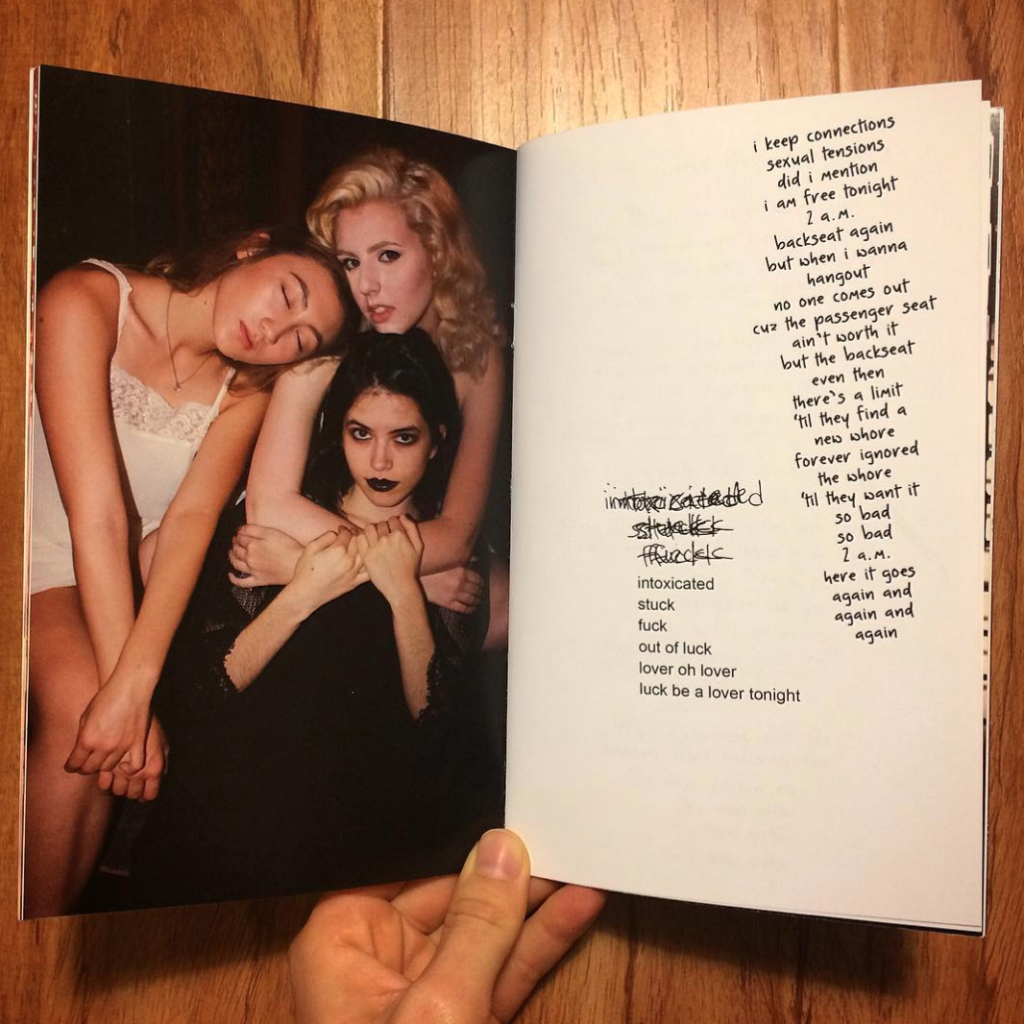 I created two poetry books written and released at the same time as "Bipolar Lovers in Love" EP. The first one is "Loneliness Hears But Does Not Come to Hold Me" contains poems, photos and drawings that crave comfort in all the wrong places. The second one, "Hideous Monster," battles the different terrors men shapeshift into and the aftermath of fear, anger, and inadequacy.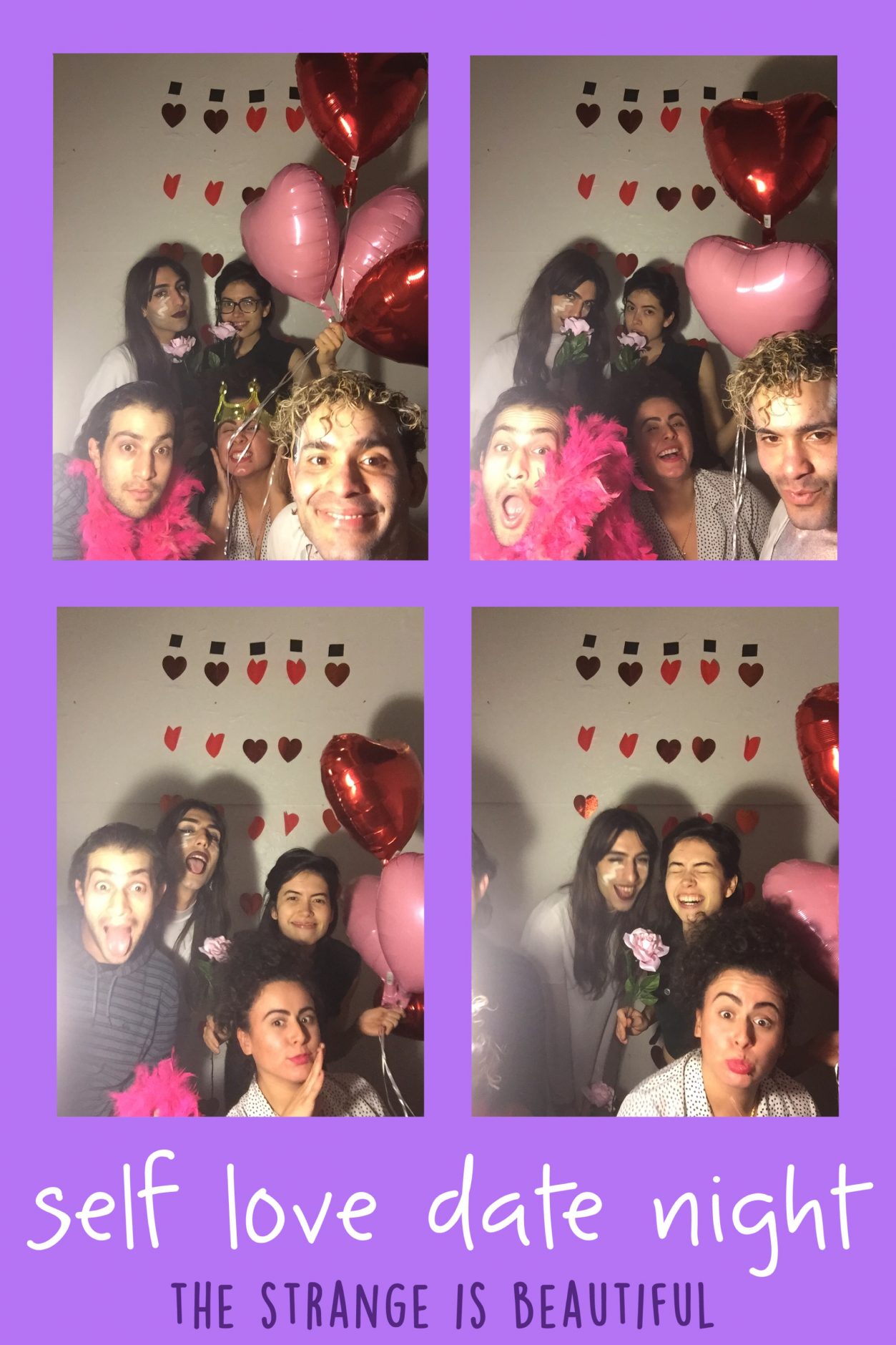 Organized through my blog The Strange is Beautiful, Self-Love Date Night was for people to celebrate themselves on Valentine's Day. Bands played and I set up a DIY photo booth plus a station to write a love letter to yourself.
I hate going to a show and talking to no one, common in LA. So I created a station for people to create a community zine and a DIY photobooth to capture new memories with new friends. My dream show was to have multiple costume changes and a string section…so I did it! And much more. I had experimental dancing by myself and Alex Floyd, three amazing background singers, bass, drums, and of course my voice and piano.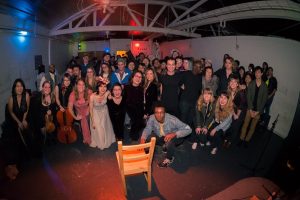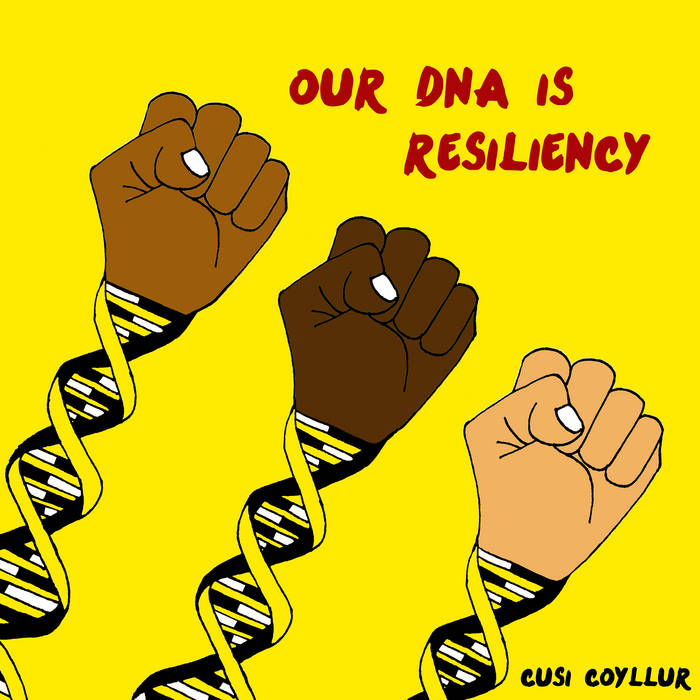 "Our DNA is Resiliency" single is about families and children that were separated due to Trump's zero-tolerance family separation policy. Proceeds go to Immigrant Defenders Law Center and it was featured on She Shreds.
During quarantine, I released "Welcome to Our War," a dance music video about invisible illness and COVID-19. Recorded at home, shot in my bathroom on iPhone, and choreographed through WhatsApp by Alex Floyd, creator of OdDancity, it was overall a very pandemic creation. It was featured on Be in a Band Or Die, Curated by Girls, Dublab's "People's Portal," Women That Rock, Glam Glare, and Luz Collective.
HEALTH: Diagnosed with LPR, where acid goes into your vocal chords. TMJ started flaring up.
Sick or Something IGTV Series
Highlighting womxn, trans & gender non-conforming musicians with #invisibleillness to push for change and accessibility in the music industry. Each episode is a Q&A plus a performance by a featured artist.
Invisible Illness TikToks
I create TikToks to spread awareness of what it's like to have invisible illnesses.
For a COVID-safe Halloween, I organized "Cemetery Soundwalk," a self-guided experience featuring five songs by five artists inspired by five spots at Hollywood Forever Cemetery. More than 100 people got tickets to it on Eventbrite!